A Dialogue of Cultures
Boghossian jewellery is inspired by a blend of Eastern and Western influences, rooted in half a century of innovative Swiss craftsmanship, intertwined with the intoxicating artistry of the Silk Route.

The Maison champions simplicity, lightness and fluidity, calling on technological innovations to achieve an effortless harmony between Eastern and Western styles, between tradition and modernity, and between gemstones and design.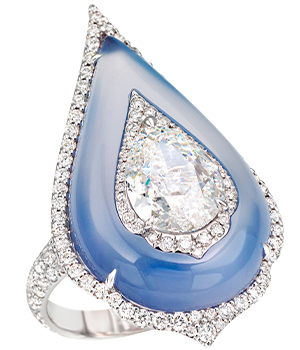 Signature Techniques
Boghossian employs cutting-edge Swiss craftsmanship, pushing the boundaries to create jewellery that defies convention. With the Maison's audacious Art of Inlay, gemstones are carved and set seamlessly into one another, requiring outstanding lapidary skills. The Kissing technique sees stones caught in an embrace, held in place only by the invisible forces of unparalleled craftsmanship. In the patented Merveilles design, diamonds and gemstones seem freed from gold, revealing only their scintillating beauty.
All About the Gems
The audacity and boldness of Boghossian's signature designs is also apparent in the Maison's one-of-a-kind high jewellery. Each piece is designed around gemstones of singular beauty and rarity: whether an unrivalled collection of coloured diamonds, a unique pigeon's blood ruby or the finest Colombian emeralds. Drawing on generations of gemmological expertise, Boghossian enhances and elevates nature's greatest treasures by setting them into distinctive designs that surprise and astonish.
Disrupting the Status Quo
Rather than follow conventions, Boghossian sets new precedents. Rather than maintain the status quo, the family constantly redefines, reinterprets and reimagines the codes of the past. The result is jewellery that is more than mere adornment: each piece is a masterful display of artistry, crafted with impeccable skill and sophistication.