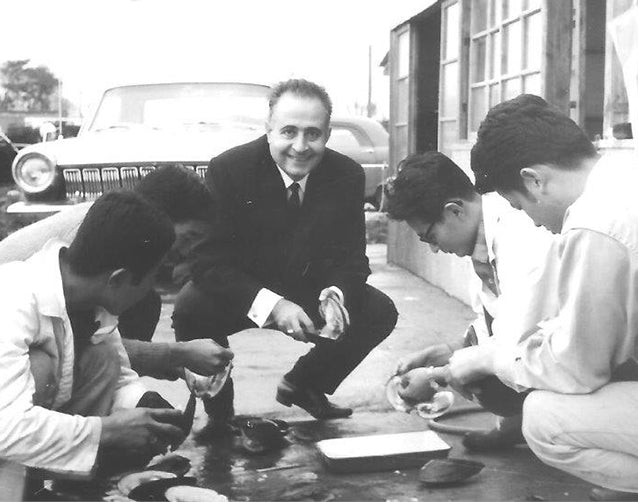 Six Generations
Boghossian boasts a rich history spanning over 150 years of creativity and gemmological expertise. Based in Geneva and helmed by fifth- and sixth-generation jewellers, CEO Albert Boghossian, his nephews Ralph and Roberto, and his daughter Dalia, the family-run maison marries a fascinating, artistic heritage with innovative Swiss craftsmanship.

Left - Albert Boghossian (left) with brother Jean Boghossian (right).
Top - Robert Boghossian, 4th generation, in Kobbe, Japan, sourcing natural pearls.
From East to West
The Maison was founded by Ovaness Boghossian in 1868 at the centre of the Silk Road. Over the generations the family travelled from East to West, handing down an innate eye for exceptional gemstones and flair for craftsmanship. They amassed an unrivalled collection of diamonds and precious stones alongside a wealth of artistic and cultural inspirations. Having cultivated relationships with the finest merchants worldwide, Albert and his brother Jean settled in Europe in the 1970s.




Ohanness Boghossian (right) - 3rd generation - grandfather of Albert Boghossian and father of Robert Boghossian.
Savoir-Faire
Geneva's highly specialised jewellery ateliers proved fertile ground for experimentation. The Maison built a reputation for innovative, often audacious designs that showcased rare gemstones in a new light. As the sixth generation, Roberto and Ralph Boghossian, joined the business in the 2000s, a new signature style emerged: one of energetic, confident artistry and boundary-breaking Swiss craftsmanship.
PUSHING THE BOUNDARIES OF CRAFTSMANSHIP
The family began to reimagine ancient and develop new techniques, calling on cutting-edge technology to create jewellery that defied conventions. Revolutionary creations such as the Art of Inlay, the Kissing technique and the patented Merveilles design made the Boghossian name synonymous with not only important gemstones, but with a boldness and originality of design admired by jewellery aficionados the world over.
International Expansion
Boghossian opened its first flagship store on Geneva's Rue du Rhone in 2008, followed by a London boutique on Old Bond Street in 2013. Boghossian's international expansion continued with retail spaces in London, New York, Hong Kong, Gstaad and Monaco, catering to its discerning global clientele.
Boghossian Today
Edmond Chin, a visionary artist known for his avant-garde creations, works alongside the Boghossian family to push the artistic and technical boundaries of high jewellery design. Together, they mine the Maison's rich history to create one-of-a-kind pieces that highlight the singular beauty of nature's rarest gemstones.

Sought after by collectors and connoisseurs, Boghossian jewels have achieved world-record prices at auction. The Maison holds the records for the highest ever price-per-carat for a Burmese ruby, the most expensive coloured diamond bracelet ever auctioned, and the most valuable no-oil emerald necklace. These history-making pieces are a fitting way to continue the family's remarkable legacy.